CReSA scientists: close to you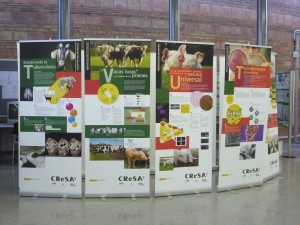 An itinerant exhibition for the general public on research in animal health is shown from November, 2011. The exhibition will be offered to schools, libraries and other institutions to be used during the 2012 planning year.
This exhibition is aimed at the general public and pretends to show the animal health research carried out by the CReSA investigators. Moreover, a book showing the information of this exhibition has been developed. Some of the topics include:
Animals, pathogens and biosafety
Researchers, students and technicians
Mosquito-borne diseases
Food toxiinfections
"Mad cows" and the enigmatic prions
Hemorrhagic pig diseases
From genetic characterization to "universal" vaccine development
Tuberculosis eradication
Bluetongue and mosquitoes
This exhibition has been funded by the Spanish Foundation for the Science and Technology (FECYT).
Download the book (Spanish version): "CReSA scientists: close to you"