Viral comments (39): Infectious Diseases One Health Master at CReSA; a path that starts with a lot of road to walk.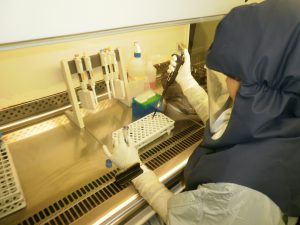 Emerging and re-emerging diseases have fuelled the construction and operation of high number of high biocontainment facilities (or Biosafety level 3) and maximum biocontainment (Biosafety level 4) facilities. Only those centres can manipulate and propagate hazardous and easily transmissible pathogens, even lethal ones, safely. This implies that professionals dedicated to issues of emerging or re-emerging infectious diseases, and in particular also zoonotic diseases, should have not only theoretical knowledge, but also practical, of the facilities in which they will potentially work or that they should manage in the future.
On the other hand, along with the tools in Biosafety it is advisable to haveupdated concepts of biosecurity, that label the field of measures and dispositions to avoid the intentional misuse of biological agents for spurious purposes, i.e. bioterrorism or biocrimes.
All this must be combined with the knowledge of what is risk assessment, an indispensable tool, and how to apply it to ensure optimum biosafety and biosecurity.
And this is what has been done in the Biosafety and Biosecurity module in the Infectious Disease One Health Erasmus Mundus master, a combined master's degree from the Autonomous University of Barcelona, ​​the University of Tours and the University of Edinburgh .
This module has included, among others, subjects such as: Biosafety and biosecurity, microbiological risk categorization and biosafety levels, biocontainment facilities for large animals, risk assessment procedures, effectiveness of inactivation processes, Personal Protective Equipment, shipment of infectious biological material, management of the biosafety in hospital settings, fumigation and alternative decontamination systems, waste management, practical aspects of engineering when it comes to planning, maintaining and renewing facilities of Biocontainment and other minor issues. All this has been combined with work in groups on practical cases of risk assessment using bibliography and prviously published documents .
What distinguishes this master's degree from others is that the 24 students from different backgrounds and geographical origins (Bangladesh, Brazil, Colombia, Spain, France, Great Britain, Indonesia, Lithuania, Mexico, Myanmar, Nepal, Nigeria, Senegal, San Vicente and Granada , Vietnam) have been able to do activities for 4 days in the High Biocontainment Unit of CReSA, where they have learned about the personnel entry and exit systems, but also materials; they have done dexterity testing in biological safety cabinets; have learned how to work properly in the aforementioned cabinets; they have worked with a variety of Personal Protective Equipment, and have performed inactivation tests on viruses to evaluate methods of outputs of inactivated samples to the outside. All this combined with a deep and intense visit to all the technical sections of the Unit where the personnel of the installation has explained the devices and protocols that make it work effectively.
The feedback coming from the students was very good, if not exceptional, since many of them did not expect the degree of detail and depth of the explanations in a field scarcely known by many of them, intriguingly, a little bit opaque, but at the same time necessary for their future tasks.
Next year we hope to maintain the level and satisfaction achieved, yet everything is susceptible to improvement thanks to the contributions of this first batch of students.
But this, this is another story.