CReSAPIENS nº 3; Animal health vaccines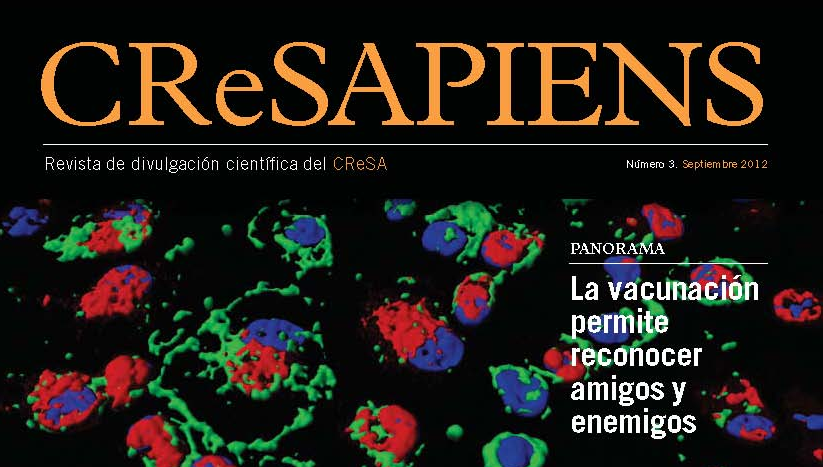 CReSAPIENS issue number 3 is now available. The world of animal health vaccines is a passionate world that you will discover through the CReSA experts.
Some of the contents at CReSAPIENS 3 (Spanish version):
Vaccination allows to recognize friends and enemies (María Montoya)
New vaccines: from the idea to the market (Enric Mateu)
The DIVA vaccines (Llilianne Ganges)
Vaccination as a way for eradication (Joan Pujols)
The three-centuries vaccine (Bernat Pérez)
Universal vaccines: coffee for everybody (Ayub Darji)
A coffee with… Virginia Aragón
We have discovered…(Elisabet Rodríguez)
The reason why of the vaccines (Anna Lacasta)
Cinema, microbes and therapies (Francesc Xavier Abad)
Vaccines against the porcine cirvovirus: a sucessful story! (Joaquim Segalés)
This issue has been funded by Boehringer Ingelheim, Novartis Animal Health, Esteve, Rubinum, Invesa, Circovac (Merial), Clinobs and Fundación Española para la Ciencia y la Tecnología (FECYT).
– Subscribe to CReSAPIENS (Spanish version): free subscription form 
– Download CReSAPIENS 3
– Download CReSAPIENS 2
– Download CReSAPIENS 1
– To contact the Editorial Board of CReSAPIENS: elisabet.rodriguez@cresa.uab.cat