Recognition of Industrial Doctorates of the projects awarded in 2015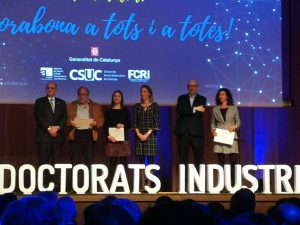 On February 7, the recognition ceremony of Industrial Doctorates was held by the Department of Enterprise and Knowledge of the Generalitat of Catalonia. These awards recognize PhD students, thesis supervisors and those responsible for overseeing the company's 65 R & D & I projects corresponding to the 2015 call.
Among the prizewinners are IRTA-CReSA researchers Laura Garza (thesis directed by Marina Sibila and Quim Segalès), Laia Bosch (thesis directed by Fernando Rodríguez) and Lourdes Vaño (thesis directed by Ignasi Badiola).
The Industrial Doctorate Plan promotes the establishment of collaboration bridges between the academic world and the socioeconomic world in order to improve the competitiveness and innovation of the country, from public-private collaboration projects that allow the generation and the transfer of knowledge and the formation of talent.