Senecavirus A: an emerging pig infection causing vesicular disease and piglet mortality?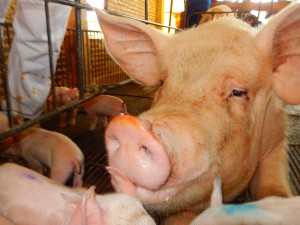 Senecavirus A (SVA) is the only member of the genus Senecavirus within the family Picornaviridae. This virus was discovered as a serendipitous finding in 2002 and has been proposed for use as an oncolytic virus to treat different types of human tumors. SVA was occasionally found in lesions in pigs affected by porcine idiopathic vesicular disease in Canada and the USA in 2008 and 2012, respectively. However, in 2014 and 2015, SVA infection was associated with outbreaks of vesicular disease in sows as well as neonatal pig mortality in Brazil and the USA.
Image: Vesicle located in the upper part of a sow's nose (picture provided by Dr. D. Barcellos, UFRGS, Brasil).
Cutaneous lesions are found more frequently on the lips, snout and tongue, and on the feet affecting the coronary band, interdigital area, dewclaws, and hoof pads. These lesions appear initially as blanched swollen areas that evolve to vesicles. The vesicles quickly rupture to form ulcers that may be covered by a serofibrinous exudate. As in other vesicular diseases, the ulcers begin to repair in 7 days and regeneration of epithelium is usually complete within 2 weeks.
No other gross or microscopic lesions have been observed in affected animals. Additional clinical signs linked to SVA infection were sudden death, as well as severe and sometimes fatal diarrhea, dehydration, and lethargy in neonatal piglets born from healthy, clinically ill, and recovered sows. Mortality of piglets varied widely between litters from different farms, but was typically 5-60%, and mainly affected animals between 1-4 days of age. Approximately 4-60% of affected piglets had diarrhea of 1 to 5 days duration. However, to date, no particular lesions that explain the death of piglets have been found.
…the major current concern is the similarity of the clinical picture to that of foot and mouth disease.
At this stage, it is important to draw the attention of farmers, veterinarians and researchers to a recently described infectious clinical-pathologic condition caused by a previously known agent (SVA). Apart from the intrinsic interest in a novel virus infecting pigs and causing economic losses, the major current concern is the similarity of the clinical picture to that of other swine diseases, because one of them -foot and mouth disease- is a World Organization for Animal Health-listed disease. Because the potential association of SVA with disease is rather new, there are still many questions to be resolved.
For further reading on the subject here's a link to a paper we have recently published in the scientific journal Veterinary pathology:
Senecavirus A: An Emerging Pathogen Causing Vesicular Disease and Mortality in Pigs?  Segalés J, Barcellos D, Alfieri A, Burrough E, Marthaler D. Vet Pathol. 2016 Jul 1. pii: 0300985816653990. [Epub ahead of print]
Here's a link for AASV members.