Viral comments (44): Postgraduate course in Biosecurity, the path is made by walking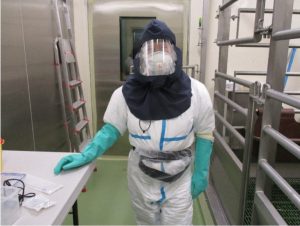 Last week finished the postgraduate course BIOSAFETY AND BIOCONTAINMENT STRATEGIES, taught in Spanish, coordinated academically by Dr. Antonio Villaverde and organized by the Faculty of Biociences and Faculty of Veterinary Medicine, with the support of the UAB's Environment Office and of the Spanish Biosafety Association (AEBioS).
With a duration of 35 classroom hours, between October 15th and 19th, twelve students from diverse backgrounds received a thorough training in topics of biosafety and biocontainment.
Within the group of about twenty teachers, IRTA-CReSA was represented by Xavier Abad, as Head of the Biocontainment Unit; Merche Mora as technical coordinator of laboratories, and Mariano Domingo, first Director of CReSA (1999-2012) and UAB research professor assigned to CReSA. The multi-discipline of the course becomes evident when among the teachers we can find from a Head of the CBRN Unit (Mossos d'Esquadra Police) and TEDAX specialist, Roberto Alvarez, to Antoni Trilla. Dr. Medicine. Head of Preventive Medicine and Epidemiology. Hospital Clinic; Research Professor –ISGlobal.
For more details you can go to the web page the course , which will obviously have a new edition in 2019, but briefly the most relevant contents were, among others: historical evolution, definitions and scope of application of Biosafety with international reference standards and guidelines and more detailed explanation of the agreement CWA 15793: 2011 that has given rise to the UNE CWA 15793: 2013 standard on biological risk management; classification of biological agents (from humans, animals and plants) into risk groups and preparation of pathogen technical sheets; sources and factors of biological risk; assessment of biological risk and control thereof using the elements of the hierarchy of risk control and good microbiological practices with the safe use of equipment and a selection, and appropriate use, of personal protective equipment and work clothing; Laboratory acquired infections; process of administrative notification of facilities or activities with genetically modified organisms (GMOs); containment strategies in research in gene therapy (receptors and vectors) and characteristics of the main viral vectors (adenovirus, retrovirus, lentivirus, AAV, baculovirus), and finally, infections related to health care; design and operation of high level insulation devices.
On the other hand, contents linked to biocontainment were: design of high containment and its constructive elements, validation of operations and maintenance, redundant systems and emergency responses; design of confined facilities for work with phytopathogens and transgenic plants in the laboratory and voluntary release; laminar flow and HEPA filtration, types and operation of biological safety cabinets; principles and methods of cleaning, disinfection, sterilization and its validation; management of biological waste (air, biocontaminated solids and effluents); regulations for the transport of biological material and criteria for a correct classification of these materials; biological emergency management and accident investigation and training / information program; biosecurity, dual use, surveillance and control of access to people and biological materials and crisis management.
In addition, practical sessions were organized, which consisted, among others, in the placement and safe extraction of personnel protection equipment (PPE), or in the Good Practices when using the biological safety cabinet.
The Postgraduate Course was also complemented by two visits to containment facilities, one devoted to plant research, the Centre de Recerca en Agrigenòmica (CRAG) and another involve in animal experimentation, the Centre de Recerca en Sanitat Animal (CReSA). In the latter the students could see and integrate much of the knowledge acquired because the visit, intensive, more than 4 hours, reviewed the processes of controlled rupture of biocontainment (through barrier equipment), the entry and exit protocols of the personnel, the layout of the spaces, the concept of experimental box, the systems of air impulsion and extraction, the boxes of absolute filtration (HEPA) of the air, the decontamination system by vaporized peroxide, the elimination of animal wastes and carcasses by incineration or alkaline digestion, and the treatment of effluents. A visit always very appreciated by the students … we will see this year.
Because getting there is one thing, but staying is completely another story.