On line course on current and future of the PRRS

Enric Mateu and Ivan Diaz, researchers of CReSA, are responsible for this course on Porcine Reproductive and Respiratory Syndrome (PRRS) sponsored by Boehringer Ingelheim.
The PRRS is endemic in most pig producing countries of the world and causes huge economic losses. The overall objective of this course, intended for veterinarians, is to refresh and update knowledge and capacity of management of the disease, including a thorough analysis of the virus, the epidemiology of the disease and future prospects.
The main topics covered in the course are:
• Module 1: General characteristics of PRRSV
• Module 2: Epidemiology of PRRS
• Module 3: Diagnosis of PRRS
• Module 4: Control of PRRS in an infected farm
• Module 5: Prospects for the future control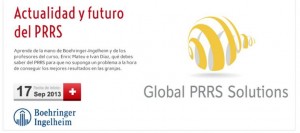 Besides the material of each module, the course allows telematic interaction between all participants of the course and the teachers. This communication allows a dynamic discussion. The course began on September 17th with an enrollment of more than 150 veterinarians and technicians.
All information about the course (content, teachers, objectives, registration):
http://formacion.grupoasis.com/curso/399-actualidad-y-futuro-del-prrs/
Contact the teachers of the course:
Enric Mateu de Antonio
Researcher in charge of the line "Immunopathogenesis and protection against PRRSV"
Email: enric.mateu@cresa.uab.cat
Phone: +34 935811046

Ivan Díaz Luque
Researcher of the line "Immunopathogenesis and protection against PRRSV"
Email: ivan.diaz@cresa.uab.cat
Phone: +34 935814565