UAB and AVPC's XXII Swine Days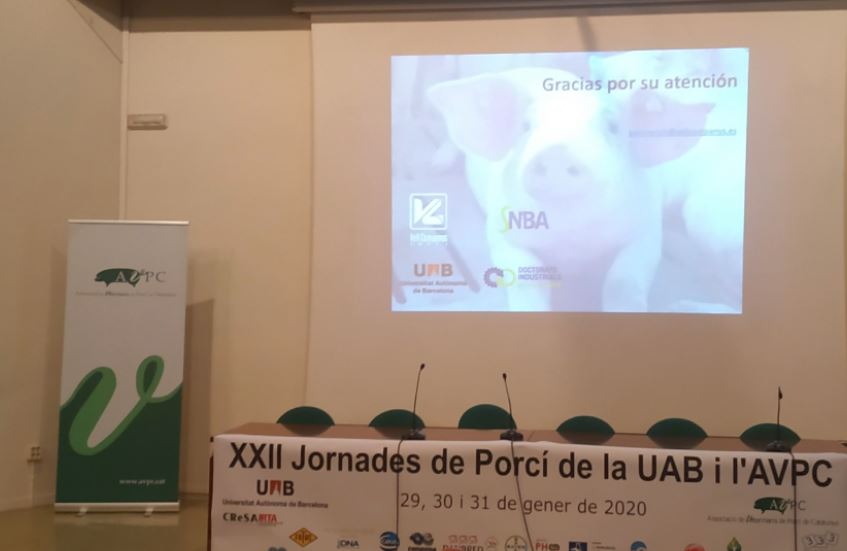 From January 29th to January 31st of 2020 more than 250 veterinarians from the pig sector attended the 22nd edition of the UAB Pig Days and the AVPC (Association of Pig Veterinarians of Catalonia), held at the Veterinary Faculty of the University Autonomous University of Barcelona (UAB).
This edition (see program) was attended by IRTA-CReSA researchers Iván Díaz, Virginia Aragón, Joaquim Segalés and Francesc Accensi.
Laboratory diagnostic workshop
During this workshop, given by Dr. Ivan Díaz and Dr. Gerard Martín-Valls, went over the basics from which we arrived at a diagnosis, deepened the interpretation of laboratory techniques, and discussed the factors or interpretations that could lead us to make a wrong diagnosis in a specific clinical process. The applications and limitations of the latest complementary techniques, such as Sanger sequencing or NGS, were also analyzed. The whole workshop was based on the joint discussion and resolution, between speakers and participants, of real clinical cases of different nature, so the aforementioned concepts were approached from a totally practical point of view. Given the participation of veterinarians of different origins, both geographical and professional, the discussion generated was extremely enriching.
Atlas of pathology and interpretation of lesions
Necropsy is a valuable diagnostic tool for the subsequent diagnosis and monitoring of control or prevention measures implemented on the farm. In addition, it can be a key element in the diagnosis of emerging and re-emerging processes, as well as in the study of the pathogenesis of diseases. This workshop, by Dr. Joaquim Segalés consisted of displaying, interpreting and commenting on a series of images of pigs' lesions, with greater emphasis on digestive and respiratory tract findings, with the interest of assisting in the interpretation of more or less common organic lesions in this species. It should be considered that a specific image will always be decontextualized from a clinical or epidemiological situation, but this should not preclude the possibility of establishing an anatomical-pathological diagnosis and one or more presumptive causal diagnoses (differential diagnosis).
The nasal microbiota and respiratory diseases in transition
The Dr. Virginia Aragon provided an update on upper respiratory tract microbiota studies, and the role of these bacterial communities in controlling diseases caused by Glasserella (Haemophilus) parasuis, Streptococcus suis, and Mycoplasma hyorhinis. The respiratory microbiota is the first barrier these pathogens encounter and, together with the native immune response, is key to maintaining balance with the host. These studies provide insights into defining a beneficial microbiota, and in the future design methods for manipulating their composition. These results were obtained in the MicroRes (Ministry of Science and Innovation) and PIGSs (H2020 European project) projects.
Piglets with less diversity in the tonsils had more virulence genes. Interesting results showed by Dr. Aragon in Jornadas de Porcino de la @UABBarcelona @CReSA_r pic.twitter.com/ge6TY5WHbi

— Flor (@bioflowerr) January 30, 2020
R + P dissemination of work performed. Do you have to worry about PCV-3?
Dr. Joaquim Segalés explained that this virus was discovered through metagenomics studies and could only be isolated in one case. In addition, there is no well-established causation. Its presence has been described worldwide and in a retrospective study conducted in Spain positive samples have been found at least since 1996 in domestic pigs and since 2004 in wild boar. In terms of positivity rates, wild boar is significantly higher (around 40%) compared to those detected in domestic pigs (8 to 10%). It has also been published that it is a virus present in all organic tissues and that it replicates in a systematic manner, such as PVC-2. The presence of PCV-3 has been associated with animals that were diagnosed with fetal myocarditis, weak-born piglets with encephalitis and myocarditis, dermatitis syndrome and porcine nephropathy (SDNP), and periarteritis. Therefore, it could be said that PCV-3 is associated with disease but its frequency is currently unknown.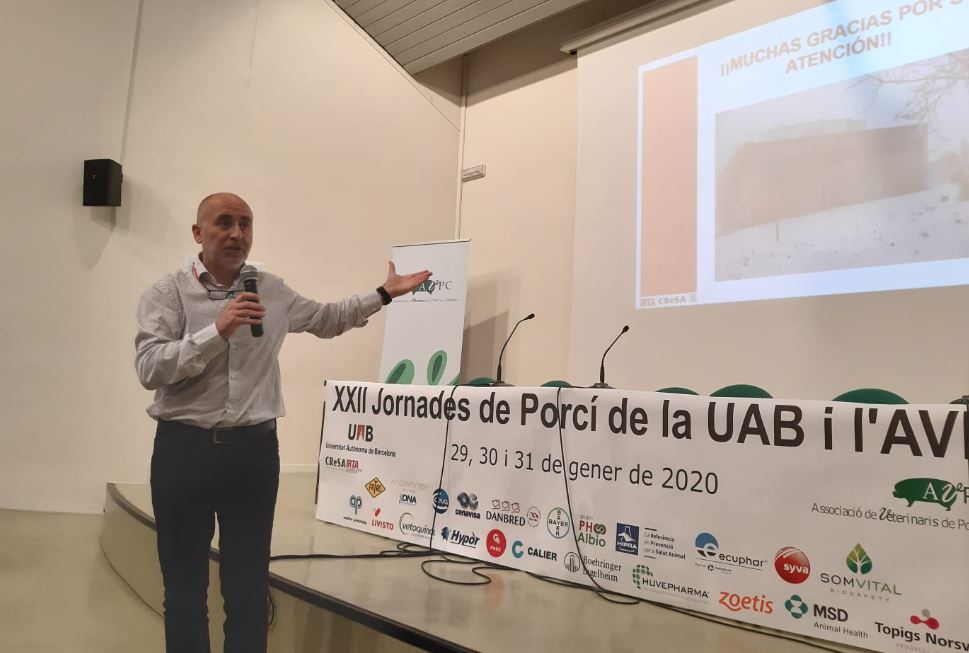 The African Swine fever vaccine
Dr. Francesc Accensi explained the IRTA-CReSA line of research on ASF, launched in 2004. The ASF is today the biggest threat to the global pig industry. Currently, there is great pressure to obtain an effective vaccine as the only control measures available are based on the implementation of biosafety measures and the combination of an early diagnosis with the slaughter of the affected animals. The IRTA-CReSA team is working on a double strategy to develop a vaccine for this viral disease. In the short to medium term, the goal is to obtain an attenuated vaccine: the Ba71ΔCD2 strain (a genetically modified organism, defective for the hemagglutinin gene for the ASF virus) is a solid candidate because of its high ability to (100%) effective protection against both homologous and heterologous strains, including the one currently circulating in eastern Europe and Asia. On the other hand, the long-term strategy is to develop subunit vaccines, due to their higher biosafety.
Ahora toca hablar del virus por excelencia en los últimos tiempos a nivel del #sectorporcino: el virus de la #PPA. @PacAccAle nos cuenta las últimas novedades acerca de la posible vacuna para la #ASF: pic.twitter.com/uYdXWb80RI

— Revista Suis (@RevistaSuis) January 31, 2020