The European hare (Lepus europaeus) as a potential wild reservoir for ruminant pestiviruses
Ruminant pestivirus (Bovine Viral Diarrhea Virus (BVDV) and Border Disease Virus (BDV)) cause important economic losses in livestock worldwide. The epidemiological role of free-ranging sympatric wildlife is of special interest for the implementation of pestivirus eradication plans. Moreover, the emergence of high mortality outbreaks of pestivirus in Pyrenean chamois (Rupicapra pyrenaica pyrenaica) since 2001 in the border between Spain, Andorra and France has increased the value of knowing the hosts that role pestivirus infection.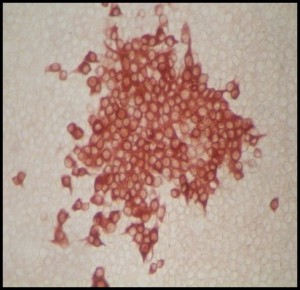 In the present study, performed at IRTA-CReSA's labs in collaboratio with SEFaS, the role of European hare (Lepus europaeus) in pestivirus infections was evaluated. Considering that this species share the habitat with Pyrenean chamois, we also wanted to compare the areas with chamois presence where we know that pestivirus is circulating, versus areas without chamois presence.
By means of sera samples from european hares hunted in different areas of Catalunya, we assessed virus presence in sera as well as antibodies against it. Finally, although no virus was detected in sera, and we couldn't establish significant differences between areas with or without chamois, 34 out of 94 analyzed hares (36,2%) were positive in antibodies presence.
Prev Vet Med. 2016 Sep 1;131:60-3. doi: 10.1016/j.prevetmed.2016.06.014. Epub 2016 Jun 29.
The European hare (Lepus europaeus) as a potential wild reservoir for ruminant pestiviruses.
Colom-Cadena A, Cabezón O, Rosell R, Fernández-Aguilar X, Blanch-Lázaro B, Tetas E, Lavín S, Marco I.
The results of the present study indicate that the European hare is susceptible to pestivirus infection and that could be involved in the epidemiology of ruminant pestivirus although more studies are needed to demonstrate it. This is the third wild non-artiodactyl with reported antibodies against ruminant pestivirus after the rabbit and Bennet's wallaby.
The research was funded by Ministerio de Economía y Competitividad of Spanish Government (Referencia CGL2012-40057-C02-01) and supported by the predoctoral FI-DGR program from the Catalonia Government.