February 2017, a case of highly pathogenic avian influenza was detected in a Stork in Catalonia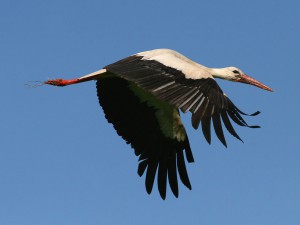 For over 10 years IRTA-CReSA has been conducting diagnosis and technical assistance within the surveillance program of avian influenza in wild birds in Catalonia as commissioned by the DARP. This program was initiated with the aim of an early detection of circulation of highly pathogenic avian influenza H5N1 virus that affected wild birds and poultry. The virus had been circulating Asia and was finally detected in Europe in 2006.
Cover image: Ken Billington.
The monitoring is based on the avian flu virus diagnosis on dead birds or birds with clinical signs in Catalonia. This diagnosis is carried out in the biosafety level 3 facilities of IRTA-CReSA. This program has allowed for the first time in Catalonia the detection of a highly pathogenic H5 virus in a wild bird (a stork found dead in the Natural Park of Aiguamolls de l'Empordà, in the municipality of Castelló d'Empúries).
Tracheal swabs of a dead stork were submitted to IRTA-CReSA, molecular biology techniques detected high concentrations of avian influenza virus in the samples, and that it consisted of an H5 virus subtype. Then samples were submitted to the Central Veterinary Laboratory (LCV) in Algete for further confirmation. In parallel from IRTA-CReSA special security zones were designed around the location where the bird was found dead. This design was transmitted immediately to the DARP who determines measures to control and prevent transmission of the virus to domestic poultry farms in the area.
The virus was also characterized using viral genome sequencing techniques with which it was determined that the virus was indeed highly pathogenic H5 with high homology with the highly pathogenic virus H5N8 circulating in Europe over the last months. Subsequently, the LCV effectively confirmed that the virus was detected in the stork H5N8 virus.
The recent sequencing of the genome of several avian influenza highly pathogenic virus H5N8 circulating has shown so far that they are essentially bird specific without affinity for humans. Researchers at the IRTA-CReSA highlight the importance of surveillance programs as a measure to prevent disease outbreaks in areas where they have not previously detected. These programs require the participation of specialists from various disciplines. In this case in IRTA-CReSA's  virologists, veterinarians, epidemiologists and laboratory technicians collaborated to ensure an early detection of the highly pathogenic H5 flu virus in birds.